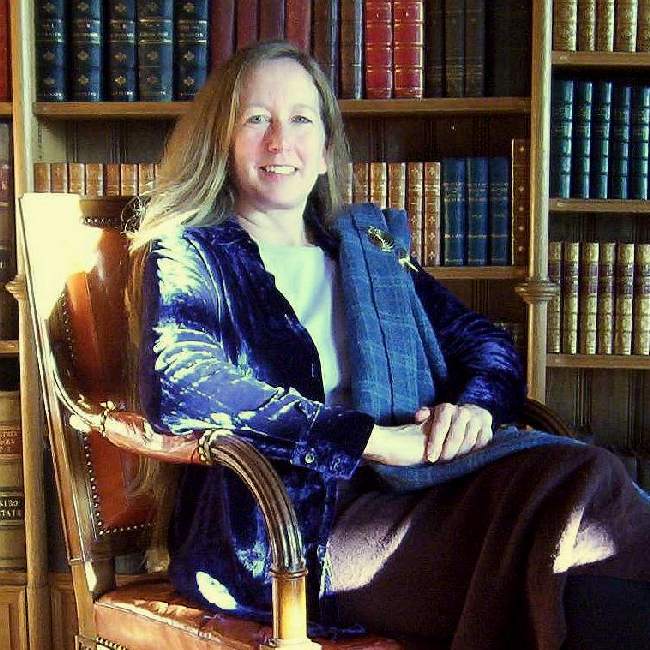 Samantha MacKenzie, Creator.
FAQ about the tour
What is included in the tour cost?
What accommodation will we have?
Will we stay in a grand house (aka grand hoosie)?
What is the difference between the higher and lower cost of each tour?
When should I sign on to a tour?
How do I pay my deposit and balance?
What is the detailed itinerary?
Will the tour include guiding in Edinburgh?
My partner hasn't read any of the books. Will he/she enjoy the tour?
Are these tours for both men and women?
This is my first international travel, how can you help?
Should I consider arriving 24 hours early?
Is this tour only for Canadians/ Americans?
Will we do the tour in the order in which they happened in the book?
What level of walking/fitness will there be?
Will I be automatically paired up (as a single traveler)?
Which month would have the best weather?
Which is the best season to visit Scotland?
What other information can you send me about the tour?
What are the smoking laws in Scotland and your policy?
What are the Connoisseur tours?
You can email me if your question is not answered here by translating this email address
Samantha @ JamieandClaireTour 'dot' co 'dot' uk

WHAT IS INCLUDED IN THE TOUR COST?
~ All accommodation
~ Evening group entertainment including Highland Tales
~ All transportation from tour start to end
~ Tour guides (DG fans and a kilt-wearing Highlander, Historian)
~ All Entrance fees to sites
~ All applicable taxes (all prices you see include a 20% tax/VAT)
~ Daily breakfast
~ Meals for the 7 day tour - 5 lunches and 3 evening meals
~ Meals for shorter tours - 3 lunches (all lunches)
~ Tips for group dinning
Note: For all Mara Freeman's Tours, please see her web page.
NOT INCLUDED:
~ Your flight
~ Alcholic drinks
~ Tips (other than at group meals)
~ Telecommunication costs
~ Personal travel insurance
~ Laundry costs
~ Personal shopping
~ Costs associated with you missing the start or end of tour

WHAT ACCOMMODATION WILL WE HAVE?
Though we promise a minimum 3 star rating, we usually stay in 4 STAR RATED accommodation. Most of the time your rooms are En-suite. We stay in private B&Bs, inns and small 18th/19th century hotels, wherever possible, although one or two nights of the tour may be in a modern, tasteful, Scottish Hotel. Accommodation is chosen for the fresh decor and cleanliness of your rooms, great breakfasts AND the customer service of the owners and staff. In 2014 we will stay in a grand hoosie (house) when available. This will usually be a two night stay to let you settle into the relaxed opulence. The sooner you sign on to a tour, the better chance you have to share in this hoosie with everyone else... so it's a first come, first serve reservation. Below are some pictures of places we have used. Back to top

Edinburgh touch of Elegance Upgrade
(available on any tour)

Baronial Mansion upgrade

WHAT MAKES YOUR TOURS UNIQUE?
1. GABALDON FAN TOUR GUIDES
Our tours are run by long time Diana Gabaldon fans (Scot & myself) who have read the series more than once (do I detect an understatement here).
2. WE STICK TO PLACES IN THE BOOKS
These are places that readers and non-readers will enjoy. We don't venture off to see unrelated castles and islands etc., that either did not exist in the time period or were not depicted or represented in Claire and Jamie's travels. ALL of your days are covering the parts of Scotland that they experienced. There is more than plenty to see just sticking to the places depicted!
3. PLACES EXCLUSIVE TO JAMIE AND CLAIRE TOURS We take you to places other tour companies do not, with some sites on private estates (like Lallybroch) and offered for our use only.
4. LESS DRIVE TIME
You see Scotland with your feet firmly on terra firma and not just whipping by you through a vehicle window. If it's in the itinerary, we stop and give it a good thorough visit. If you want to have time to enjoy the beautiful scenery, ancient stones, wee villages or monumental castles, this is the place to do it. We don't rush you through each location in one afternoon.
5. A GOOD MIX OF PEOPLE
Joining us are male & female readers of the books and non-reading partners, professionals, non-professionals, teachers, sailors and a mix from so many wonderful walks of life, of all different ages.
6. WE GUIDE EVERY DAY OF THE TOUR ONCE WE'RE ON THE ROAD
This gives you more 'not to be missed' experiences.
7. ACCESS TO BACK ROADS & HIDDEN TREASURES
Our vehicles allow us to go where coaches cannot go e.g. quaint and adventurous roads and sites like Lallybroch.
8. SMALL GROUPS
Our maximum number of guests are 14, (unless by special event or private tour).
9. TOUR BEGINS & ENDS IN SAME PLACE
We begin and complete our tours from the same city (often Edinburgh) for your convenience of flight reservations.
10. EXCHANGE RATES
We don't make extra on your payment. Make your deposit and then pay the balance any time up until 12 weeks prior to your tour, when the exchange rates are in your favor, potentially saving you money.
Back to top
WILL WE STAY IN A GRAND HOUSE?
On our J&C tours in 2014 we have a lovely Grand Lodge (aka big hoosie) with relaxed opulence and a few 4 poster beds thrown in for good measure. This has proven to be a winner with our guests in a trial run and far outreaches the castle we previously stayed in, so we're quite pleased! We will stay here for two nights when available to us. The sooner you sign on to a tour, the better chance you have to share in this hoosie with everyone else... so it's a first come, first serve reservation!

NOTE: Custom, Private Tours ~ we do have access to some grande castles and big hoosies for a week long rental. Back to top
WHAT IS THE DIFFERENCE BETWEEN THE HIGHER AND LOWER COST OF EACH TOUR?
Single vs. Double/Twin: The "Single" rate is higher and is for Outlandish Spirits traveling on their own. It allows them to have a private bedroom all week with the exception of The Castle stay, Baronial Mansion or Edinburgh Touch of Elegance. Double/Twin is the lower rate per person for each tour based on two people who are traveling together (friends, partners) and sharing a bedroom all week.

HOW DO I PAY MY DEPOSIT AND BALANCE?
Click on the Booking link on the slide menu on the left of your screen or on the Booking icon within each month's tour box. All payments are made via Paypal and you may use your debit or credit card within their system. We do not accept cheques, bank drafts, money orders or cash.
WHEN SHOULD I SIGN ON TO A TOUR?
Sign on from the time the tour is on the web until 12 weeks before the tour date. Finale balances are due 12 weeks before the tour date. The Sooner a tour is filled the sooner we can establish everyone's accommodation, vehicles, any special events, etc. If you wish to sign on after the 12 week mark, there may be extra costs incurred for late comers.
WHAT IS THE DETAILED ITINERARY?
Scotland tours begin & finish in Edinburgh; Dragonfly begins and ends in Paris. Beyond that, I don't give a detailed itinerary. In between the start and finish, the Itinerary Outline Page shows the "Visits and Experiences" you will have. The most important thing for you to know is the actual start and finish times of any tour (check before booking a flight). Each edition of the tour is a little different, tailored to who the guests are. I don't finalise the route until a few days before, sometimes. Some of the locations are a surprise and not available with other tour companies. Each evening, we will go over the next day's plan so you can prepare the appropriate clothing and have something to chat and dream about. So we ask that you kick back, relax, eat lots, take photos, do some walking and enjoy the views, while WE make sure we're getting you to the next destination. Back to top
WILL THE TOUR INCLUDE GUIDING IN EDINBURGH?
No. You will have time upon your arrival to explore the city and if you wish, you may chose to stay on after the tour is complete. There are so many things to explore and Edinburgh is laid out in a way that makes it easy to do on your own. Back to top
MY PARTNER HASN'T READ ANY OF THE BOOKS. WILL HE/SHE ENJOY THE TOUR?
Yes! While we ourselves are DG fans, we are also experienced tour guides. That, combined with the fact that Scotland is a gem-box of beauty and interest, will leave plenty to enjoy. All of the activities are available to non-readers e.g. an evening of traditional Tales, walking, historical sites. See "Who are the tours for?" on the Home page...Back to top
ARE THESE TOURS FOR BOTH MEN AND WOMEN?
YES! Men are just as comfortably welcome. The adventures are led by Scot and Samantha. Guys have been on recent and previous tours (so far in couples). See the History page and the May 2010 blog and September 2009 blog for our Outlandish Spirits' (male & female) own words on the tour and their photos.
THIS IS MY FIRST INTERNATIONAL TRAVEL, HOW CAN YOU HELP?
I will send you a packing list if needed. We will do the driving for you (on the left hand side). We'll tell you which airports to avoid if you are flying. I will assist you with recommendations if you want to extend your stay in Scotland beyond the tour week. Back to top
SHOULD I CONSIDER ARRIVING A DAY EARLY?
YES. If you arrive the day before a tour, you don't have to worry about your flight being late and you can ease through any jet lag so you're rested for the first day of the tour. If you are late, we cannot wait.
IS THIS TOUR ONLY FOR CANADIANS & AMERICANS?
No. While I understand that Diana Gabaldon's biggest fan base is in the Americas, including South America, we have heard from and been joined by fans from the UK and Europe. The guiding IS conducted in English though. If you have a group of at least 6 non-English speaking people who would like to come along, please contact me! Back to top
WILL WE DO THE TOUR IN THE ORDER IN WHICH THEY HAPPENED IN THE BOOK?
Remember, it took Claire and Jamie the better part of their first year to make their initial journey just in the first book. Even with modern transport, the order of the locations in the book would literally have us going up/down/up and around in a couple of circles, and would not be practical or possible in one week! What we do, whenever possible, is to go to the locations of the first book early in the tour, Culloden quite late in the tour, then finish with Edn. There is a logical flow to our tour.Back to top
WHAT LEVEL OF WALKING/FITNESS WILL THERE BE?
We do walk on all tours. We try to populate a tour with people of similar abilities. If a tour says:
"This particular tour date is for those with a higher level of physical fitness", then you need to have above average stamina at the time you sign on to that tour as stated just below:

For the HIGHER LEVELS of fitness tours, the following applies:
A) You should be able to walk 1 mile on the flat in 18 minutes or less. Test yourself, don't assume.
B) Your knees, hips, feet, lungs, heart or any other body part vital to walking should be in good condition without recent problems or surgeries.
C) Your Body Mass Index should be less than 27.1 Check your BMI here.

For ALL LEVELS of fitness tours, the following applies: (in 2014 this includes: June - Dragonfly, July - Borders, July - J&C)
A) If your timed mile is greater/more/takes longer than than 18 minutes and/or your BMI is greater than 27.1, then the tours stating "This tour is for ALL LEVELS of fitness" is more appropriate.
B) If you've had any physical problems that affect your walking you will be better on these All Levels of fitness tours.

Note: There is a good mix of people of all fitness levels who join us each year on these particular tours because the dates sometimes work better with their schedules, or their travel partner has a knee or other walking problem that slows them down a bit, etc,. So please do not hesitate to sign on to an ALL LEVELS OF FITNESS tour as you will still have plenty of activity!
Footwear For All Tours: You will need walking boots or shoes with ankle support for some days. All walks are guided. Back to top
WILL I BE AUTOMATICALLY PAIRED UP (AS A SINGLE TRAVLER)?
For accommodation, you will have your own room (see 3rd question). Usually within our small groups (up to 14 people) there is a natural camaraderie that happens. I do help this along and I remain aware of any single travelers and do my utmost to make everyone feel part of the group. But it is a two way path and each traveler, single or in couples, needs to meet us part way! Scot and I are part of the group too! So we socialize with everyone. Back to top
WHICH MONTH WOULD HAVE THE BEST WEATHER?
1. The pre-spring and spring months of March, April, May are filled with flowers, light green leaves.
2. Summer often has warmer temperatures and enjoys even longer daylight. Gardens are in full bloom.
3. The autumn months of September/October have the added value of the autumn sun that casts a lovely glow over the landscape - artists love this time of year. The heather turns to a deep rusty red that covers the hillsides. In October, many of our northern trees on our journey turn to a lovely golden yellow.

WHICH IS THE BEST SEASON TO VISIT SCOTLAND?
Following on from the above answer. Call it global warming and no matter the cause, we are seeing changes in our seasons. It may rain, it may not. It may be very warm or it may be, as we like to say, "refreshing". No matter when you come to Scotland, you'll not be disappointed by the beauty. Back to top
WHAT OTHER INFORMATION CAN YOU SEND ME ABOUT THE TOUR?
Have you read the Blog yet? There you will find some of the completed tours, much of it written by the guests, with photos and comments. It will give you a feel for what the tour is like. Prior tours Blog.
Also see Billy Connolly - "Welcome to Scotland". An Eejit's guide to Scotland. Brilliant! Contains Strong language. Also explains why all my kitchens in rented houses prior to this one were carpeted?!
WHAT ARE THE SMOKING LAWS IN SCOTLAND AND YOUR POLICY?
Scotland has strict No Smoking laws. It is now illegal in/around accommodation and within public interiors. For ease of rules and everyone's comfort, we do not allow smoking at any time on the tour, even in the off hours. Back to top

WHAT ARE THE CONNOISSEUR TOURS?
The Connoisseur's range of tours is designed for those who want to see some of the well hidden and "best of" an area. It is for those who have either visited the country before, be it Scotland, England, Ireland, Wales, France, and already done the popular tourist sites, or for first time visitors. Either way, it is for those who want to leave the main path to go deeper into the land and culture of the place, to regions seldom visited by tourists; to have experiences that are a little less obvious, but equally rewarding. The journeys will include beautiful and amazing places that you may have never heard of! Our prior tour guests (aka The Outlandish Spirits Club) should consider these tours. As ever, you won't know much about where we are taking you, but you do know that if we're taking you there, you'll love it! Back to top

WHAT IS AN EXTENSION?
The extension is a short, optional additon of a few days to your existing tour. It might go off book a little, or it might simply give more of what there is to see in a longer vacation. As per the main tour, your accommodation will be booked for you, following straight on from the end of the main tour. Back to top

You can also email us with questions on
Samantha @ JamieandClaireTour 'dot' co 'dot' uk
or arrange to call us for Free on

by arrangement via email.
Our UK landline is +44 (1764) 681682 (remember time zones)