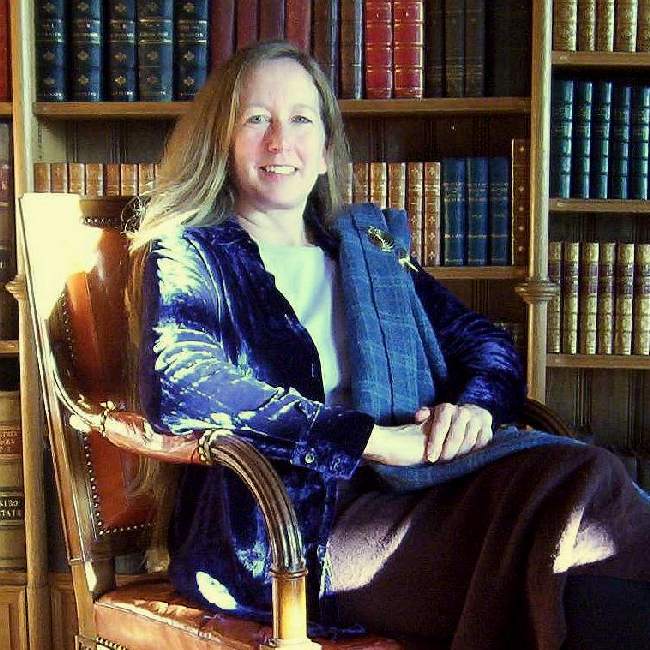 Samantha MacKenzie, Creator.
Frequently Asked Questions about the tour
What is included in the tour cost?
What accommodation will we have?
What is the luggage allowance on the tour
What kind of vehicle will we travel in?
How many people will be on the tour?
What is the difference between the higher and lower cost of each tour?
When should I sign on to a tour?
How do I pay my deposit and balance?
I had a problem with the booking process. What now?
What is the detailed itinerary?
Will the tour include guiding in Edinburgh?
My partner hasn't read any of the books. Will he/she enjoy the tour?
Are these tours for both men and women?
This is my first international travel, how can you help?
Should I consider arriving 24 hours early?
Is this tour only for Canadians/ Americans?
Will we do the tour in the order in which they happened in the book?
What level of fitness is required on our *Pre-scheduled tours?
Will I be automatically paired up (as a single traveler)?
Which month would have the best weather?
Which is the best season to visit Scotland?
What other information can you send me about the tour?
What are the smoking laws in Scotland and your policy?
What are the Connoisseur tours?
My questions is not answered here
WHAT IS INCLUDED IN THE TOUR COST?
~ All accommodation (usually B&B / Guest House)
~ Evening group entertainment including Highland Tales
~ All transportation from tour start to end
~ Tour guides (DG fans and a kilt-wearing Highlander, Historian, Storyteller)
~ Entrance fees to sites
~ All applicable taxes (all prices you see already include a 20% sales tax / VAT)
~ 7 Day Tour Meals- Daily breakfast, 5 lunches and 3 evening meals
~ Tips for group dinning

NOT INCLUDED:
~ Your flights
~ Additional Options / Activities
~ Alcholic drinks
~ Tips (other than at group meals)
~ Telecommunication costs
~ Personal travel insurance
~ Laundry costs
~ Personal shopping
~ Costs associated with you missing any part of the tour due to your late arrival including the start or end of tour

The Tour cost and date is always shown on the Home Page.
WHAT ACCOMMODATION WILL WE HAVE?
We stay in 4 STAR quality accommodation in private B&Bs, a *Grand Country House and on on occasion a tasteful, Scottish style Hotel. Your room will be en-suite. Accommodation is chosen to meet the following standards:
~ Fresh decor and cleanliness of your rooms
~ The Highland-feel to the house
~ Great breakfasts
~ Customer service of the owners and staff
NOTE: We strive to provide rooms either with twin beds or a large double (queen/king) bed where requested, however, staying in small country homes limits our our choices. There may be a time when you will be in your second choice. For non-couple guests: Hosts are offering fewer twin rooms than in the past. What this means for you - Two friends travelling together will probably need to share a double (queen/king when available) bed during part of the journey. Solo travellers will sometimes get a double or single room. Below are some pictures of places we have used.

*BETTER THAN A CASTLE! In 2015 we have reserved our rooms for the season at a lovely *Grand Country House (aka Big Hoosie - rhymes with Moosie). The interior has a relaxed opulence of a fine castle and a few 4 poster beds thrown in for good measure. The views over the countryside are lovely. We plan to stay here for two nights, giving you time to relax into the fireside atmosphere with good conversation, a wee dram, a cup of cocoa and fabulous cuisine. This has proven to be a winner with our guests in a trial run and far outreaches in decor, service and comfort, ALL castles available to us, so we're quite pleased! A house that would make any ancient Laird envious.
Below are some pictures of places we have used. Back to top

WHAT MAKES YOUR TOURS UNIQUE?
1. GABALDON FAN TOUR GUIDES
Our tours are run by long time Diana Gabaldon fans (Scot & myself) who have read the series more than once (do I detect an understatement here?).
2. WE STICK TO PLACES IN THE BOOKS
These are places that readers and non-readers will enjoy. We don't venture off to see unrelated castles and islands etc., that either did not exist in the time period or were not depicted or represented in Claire and Jamie's travels or in the current Starz Outlander filming. ALL of your days are covering the parts of Scotland that they experienced in Diana's books and in the film locations.. There is more than plenty to see just sticking to the places depicted!
3. PLACES EXCLUSIVE TO JAMIE AND CLAIRE TOURS
We take you to places other tour companies do not, with some sites on private estates (like Lallybroch) and offered for our use only.
4. LESS DRIVE TIME
You see Scotland with your feet firmly on terra firma and not just whipping by you through a vehicle window. If it's in the itinerary, we stop and give it a good thorough visit. If you want to have time to enjoy the beautiful scenery, ancient stones, wee villages or monumental castles, this is the place to do it. We don't rush you through each location in one afternoon.
5. A GOOD MIX OF PEOPLE
Joining us are male & female readers of the books and non-reading partners, so you'll have that in common with your fellow travellers.
6. WE GUIDE EVERY DAY OF THE TOUR ONCE WE'RE ON THE ROAD
This gives you more 'not to be missed' experiences.
7. ACCESS TO BACK ROADS & HIDDEN TREASURES
Our vehicles allow us to go where large coaches cannot go e.g. quaint and adventurous roads and sites like Lallybroch.
8. SMALL GROUPS
Our maximum number of guests on Pre-scheduled tours are 14.
9. TOUR BEGINS & ENDS IN SAME PLACE
We begin and complete our tours from the same city (often Edinburgh) for your convenience of flight reservations.
10. FREE TIME TO EXPLORE ON YOUR OWN
You have some time to yourself at some places we visit to explore on your own before meeting with the group later. There are some independent evenings as well to go and explore where you like with plenty to see and eateries from which to choose.
11. EXCHANGE RATES
We don't make extra on your payment. Make your deposit and then pay the balance any time up until 12 weeks prior to your tour, when the exchange rates are in your favor, potentially saving you money.
12. GÀIDHLIG LESSONS
You'll get lessons from Scot as we drive along and be introduced wherever possible to native speakers to practice the living language. Get your first lesson here!
Back to top
WHAT IS THE LUGGAGE ALLOWANCE ON THE TOUR
All tours have the same luggage/baggage allowance, drawn from years of experience as to what makes good travelling. Each person is limited to ONE piece of luggage.
Maximum luggage size is 52 linear inches total (Example: 24" high x 16" wide x 12" deep = 52" linear); A very small day/book pack may be substitued for a purse and must comfortably sit on your lap in the vehicle to hold your wallet, camera, etc. You must be able to lift your own luggage in and out of the vehicle trunk and carry it up flights of stairs. There are no elevators, tour guides or porters to carry your luggage for you.
This photo shows the right luggage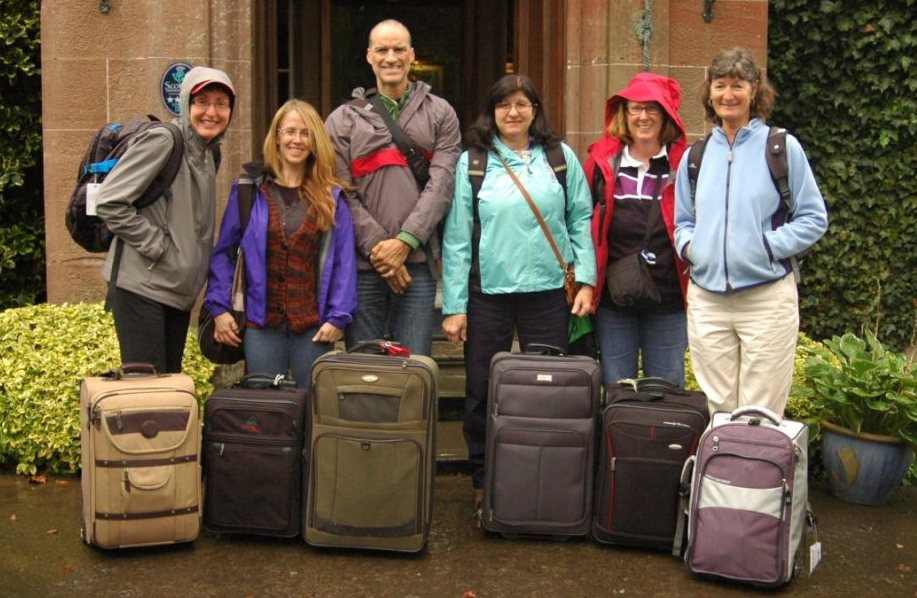 You will be sent a suggested packing list of clothing etc, compiled from my own and our guests' experience.
Back to top
WHAT KIND OF VEHICLE WILL WE TRAVEL IN?
We use 9 seater MPV vehicles (one or two) like the one shown here.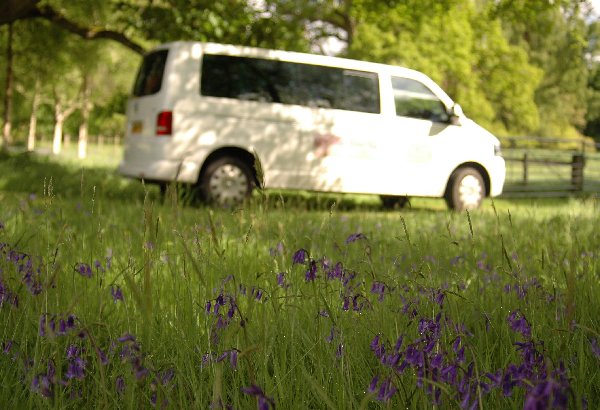 Back to top
HOW MANY PEOPLE WILL I TRAVEL WITH?
Guest numbers are bewteen 6 and 14 persons.
Back to top
WHAT IS THE DIFFERENCE BETWEEN THE HIGHER AND LOWER COST OF EACH TOUR?
Single vs. Double/Twin: The "Single" rate is higher and is for Outlandish Spirits traveling on their own. It allows them to have a private bedroom all week. Double/Twin is the lower rate per person for each tour based on two people who are traveling together (friends, partners) and sharing a bedroom all week.

HOW DO I PAY MY DEPOSIT AND BALANCE?
Click on the Booking link on the slide menu on the left of your screen or on the Booking icon within each month's tour box. All payments are made via Paypal and you may use your debit or credit card within their system. We do not accept cheques, bank drafts, money orders or cash. Back to top
WHEN SHOULD I SIGN ON TO A TOUR?
Sign on from the time the tour is on the web until 12 weeks before the tour date. Final balances are due 12 weeks before the tour date. The Sooner a tour is filled the sooner we can establish everyone's accommodation, vehicles, any special events, etc. If you wish to sign on after the 12 week mark, there may be extra costs incurred for late comers. Back to top
WHAT IS THE DETAILED ITINERARY?
Scotland tours begin & finish in Edinburgh; Dragonfly begins and ends in Paris. Please see Itinerary Page which shows the "Visits and Experiences" you will have. Back to top
WILL THE TOUR INCLUDE GUIDING IN EDINBURGH?
Not unless you have opted for one of our tour extensions that guide you around particular flavours of Edinburgh, e.g. the "A.Malcolm, Printer" period and the Scottish Enlightenment.
If not, you might consider giving yourselves a day or two before or after to enjoy the city. Back to top
MY PARTNER HASN'T READ ANY OF THE BOOKS. WILL HE/SHE ENJOY THE TOUR?
Yes! While we ourselves are DG fans, we are also experienced tour guides. That, combined with the fact that Scotland is a gem-box of beauty and interest, will leave plenty to enjoy. All of the activities are available to non-readers e.g. an evening of traditional Tales, walking, historical sites. See "Who are the tours for?" on the Home page...Back to top
ARE THESE TOURS FOR BOTH MEN AND WOMEN?
YES! Men are just as comfortably welcome. The adventures are led by Scot and Samantha. Guys have been on recent and previous tours (so far in couples). See the History page and the May 2010 blog and September 2009 blog for our Outlandish Spirits' (male & female) own words on the tour and their photos.
THIS IS MY FIRST INTERNATIONAL TRAVEL, HOW CAN YOU HELP?
As part of your booking process, you will get a packing list and a list of Edinburgh recommendations for outside of your tour time. We will do the driving for you (on the left hand side). We'll tell you which airports to avoid if you are flying. There is also the Prior tours Blog, in which prior guests share their tour experiences. Back to top
SHOULD I CONSIDER ARRIVING A DAY EARLY?
YES. If you arrive the day before a tour, you don't have to worry about your flight being late and you can ease through any jet lag so you're rested for the first day of the tour. If you are late, we cannot wait.
IS THIS TOUR ONLY FOR CANADIANS & AMERICANS?
NO! Everyone is welcome. So far we've had guests from Europe, Japan, New Zealand, Central America, Australia. The guiding IS conducted in English though. If you have a group of at least 6 non-English speaking people who would like to come along, please contact me! Back to top
WILL WE DO THE TOUR IN THE ORDER IN WHICH THEY HAPPENED IN THE BOOK?
Remember, it took Claire and Jamie the better part of their first year to make their initial journey just in the first book. Even with modern transport, the order of the locations in the book would literally have us going up/down/up and around in a couple of circles, and would not be practical or possible in one week! What we do, whenever possible, is to go to the locations of the first book early in the tour, and places like Culloden later in the tour. There is a logical flow to our tour. Back to top
>WHAT LEVEL OF FITNESS IS REQUIRED ON OUR PRE-SCHEDULED TOURS?
MacKenzie Adventures & The Jamie and Claire Tours are "physically active tours".
This means our tours are suitable for guests who are physically fit:
1. WALK BRISKLY - Test yourself - Walk one mile and time yourself. You will submit the results on the Health & Safety Form.
2. HIKE HILLS - Country hills on and off paths on rugged terraine. Hike easily and briskly and keep up with the group.
3. LIFT - Carry their own piece of luggage up flights of stairs and lift it in and out of vehicles. (See: Luggage Allowance)
4. BMI - Assure your BMI is BELOW 30.5 Check your BMI here ...If your BMI is higher, please contact us before signing on to a tour.
NOTE: These are not endurance tours! People who are in relatively good condition and regularly exercise should have no problem on our tours.

NOTE: Custom / Private tours are not 'pre-scheduled' and the trip is styled to YOUR abilities.

Footwear For All Tours: You will need walking boots or shoes with ankle support for some days. All walks are guided.

Back to top
WILL I BE AUTOMATICALLY PAIRED UP (AS A SINGLE TRAVELER)?
For accommodation, you will have your own room (see 3rd question). Usually within our small groups (up to 14 people) there is a natural camaraderie that happens. I do help this along and I remain aware of any single travelers and do my utmost to make everyone feel part of the group. But it is a two way path and each traveler, single or in couples, needs to meet us part way! Scot and I are part of the group too! So we socialize with everyone. Back to top
WHICH MONTH WOULD HAVE THE BEST WEATHER?
1. The pre-spring and spring months of March, April, May are filled with flowers, light green leaves. These are the drier months.
2. Summer often has warmer temperatures. Gardens are in full bloom, but it rains a lot and there are more tourists.
3. The autumn months of September/October have the added value of the autumn sun that casts a lovely glow over the landscape - artists love this time of year. The heather turns to a deep rusty red that covers the hillsides. In October, many of our northern trees on our journey turn to a lovely golden yellow. The weather is mixed and there are fewer tourists around.

WHICH IS THE BEST SEASON TO VISIT SCOTLAND?
Following on from the above answer. Call it global warming and no matter the cause, we are seeing changes in our seasons. It may rain, it may not. It may be very warm or it may be, as we like to say, "refreshing". No matter when you come to Scotland, you'll not be disappointed by the beauty. My favourite seasons are Spring and Autumn. Back to top
WHAT OTHER INFORMATION CAN YOU SEND ME ABOUT THE TOUR?
Have you read the Blog yet? There you will find some of the completed tours, much of it written by the guests, with photos and comments. It will give you a feel for what the tour is like. Prior tours Blog.
There are also some travel-tips documents that you can download during the booking process. Also see Billy Connolly - "Welcome to Scotland". An Eejit's guide to Scotland. Brilliant! Contains Strong language. Also explains why all my kitchens in rented houses prior to this one were carpeted?!
WHAT ARE THE SMOKING LAWS IN SCOTLAND AND YOUR POLICY?
Scotland has strict No Smoking laws. It is now illegal in/around accommodation and within public interiors. For ease of rules and everyone's comfort, we do not allow smoking at any time on the tour, even in the off hours. Back to top

WHAT ARE THE CONNOISSEUR TOURS?
The Connoisseur's range of tours is designed for those who want to see some of the well hidden and "best of" an area. It is for those who have either visited the country before, be it Scotland, England, Ireland, Wales, France, and already done the popular tourist sites, or for first time visitors. Either way, it is for those who want to leave the main path to go deeper into the land and culture of the place, to regions seldom visited by tourists; to have experiences that are a little less obvious, but equally rewarding. The journeys will include beautiful and amazing places that you may have never heard of! Our prior tour guests (aka The Outlandish Spirits Club) should consider these tours. As ever, you won't know much about where we are taking you, but you do know that if we're taking you there, you'll love it! Back to top

WHAT IS AN EXTENSION?
The extension is a short, optional additon of a few days to your existing tour. It might go off book a little, or it might simply give more of what there is to see in a longer vacation. As per the main tour, your accommodation will be booked for you, following straight on from the end of the main tour. Back to top

MY QUESTION IS NOT ANSWERED / I NEED BOOKING HELP
If your question is not answered above, or you have trouble with the booking process, you can email me by translating this email address
Samantha @ JamieandClaireTour 'dot' co 'dot' uk
OR
Telephone from outside UK: your country exit code* +44 1764 681682
(Remember time difference. *US exit code is 011)
Within UK 01764 681682
OR
You can also arrange to call us from free on Skype. Email to arrange a call.