Tours 2016 ~ Quick Links ~ Tours 2016
Month
Tour Name
Price
May 15 - 21
(7 Days)
Jamie & Claire Tour - Spring
£900
More information...>

May 22
Edinburgh of A. Malcolm, Printer
£70
More information...>

May 23
Starz filming locations
£80
More information...>

June 14 - 20
(7 Days)
Jamie & Claire Tour - Late Spring
£900
More information...>

June 21
Edinburgh of A. Malcolm, Printer
£70
More information...>

June 22
Starz filming locations
£80
More information...>

July 9 - 17
(9 Days)

Dragonfly in Amber Tour - France

1200 TBC
July 31 - August 7
(8 Days)

The Borders Tour
Hosted by Scot AnSgeulaiche

£1000
More information...>
August 10 - 18
(9 Days)

Journey to the Western Isles
Hosted by Scot AnSgeulaiche

£1200
More information...>
August 24 - 30
(7 Days)
Jamie & Claire Tour - Summer
£900
More information...>
August 31
Edinburgh of A. Malcolm, Printer
£70
More information...>

September 1
Starz filming locations
£80
More information...>

September 4 - 10
(7 Days)
Jamie & Claire Tour - Autumn
£900
More information...>
September 11
Edinburgh of A. Malcolm, Printer
£70
More information...>

September 12
Starz filming locations
£80
More information...>

You choose a date
Private / custom tours
for Family, Friends, Clans
More on custom tours...>
Jamie and Claire Tours ~ General Description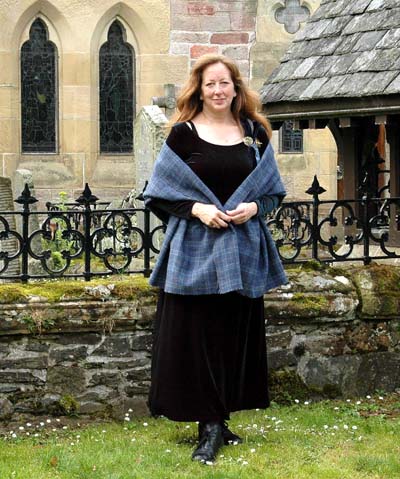 See Scotland with your feet firmly on terra firma!
...not just whipping by you through a vehicle window.
Hello. We're Samantha & Scot and we've been great fans for almost two decades of the Diana Gabaldon Outlander series. Since the inception of these Outlander theme tours 10 years ago, we've travelled throughout Scotland & France to find the best place to let you 'experience' the adventures and the land of Jamie and Claire. We've been visiting locations for many years that are now used as Starz filming locations.

We think the Jamie and Claire Outlander Tour of Scotland is as close as you can get in a week to the lives of Jamie and Claire on a Diana Gabaldon inspired tour. Because we limit the amount of time in the vehicle see here, you'll have more time with your feet on terra firma to experience the paths and hills of the Scottish Highlands. We will witness parts of the battle and pay our respects to the fallen at Culloden Battlefield. We'll look for the elusive Stone of Craigh na Dun that brought Claire into Jamie Fraser's life. We'll visit a Private "Lallybroch" Estate very much like the book's description and search for Nessie on a Loch Ness Boat Trip or you may wish to try your skills at Pony/Horse Trekking. We'll stay in some traditional accommodations of the Highlands and meet the locals. We'll visit the romantic wee chapel like the one Claire and James Alexander Malcolm MacKenzie Fraser were joined in a traditional Scottish Handfasting marriage. There will be time for traditonal Celtic music, Gàidhlig words and phrases and Storytelling of the 18th century with a genuine Highland Storyteller as one of your guides.
We are long time devoted Jamie and Claire fans and have created experiences that best reflect the atmosphere of their adventures and life in the 1700s.
We've chosen the locations and experiences closest to the first 3 books in the Outlander Series by Diana Gabaldon. However, these are places that will appeal to everyone interested in the magnificence of Scotland. Walking is essential to the pre-scheduled group tours, as we leave the vehicle at each destination and put on our walking shoes and enjoy the beauty around us.
The search for Claire & Jamie is on as you join us in an adventure of a life time.
For our even more adventurous or returning guests (aka Outlandish Alumni), we have non-Outlander tours such as "The Romantic Borders", "Journey To The Western Isles" and Custom Tours which can be any part of Scotland, or a combination of Outlander locations with other places.

Site created 2006 by ansguelaiche.mackenzie. Last updated 2016.