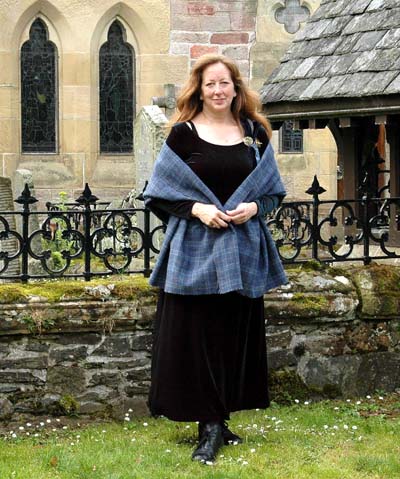 Hello. We're Samantha & Scot and we've been great fans for almost two decades of the Diana Gabaldon Outlander series. With the input of other fans, Sam created Outlander tours of Scotland and France, sticking closely to the books. Since 2014 we have also included Starz filming locations.
The search for Claire & Jamie Fraser is on as you join us in an adventure of a life time.

For our even more adventurous or returning guests, we have non-Outlander tours such as "The Romantic Borders", "Journey To The Western Isles" and Custom Tours which can be any part of Scotland, or a combination of Outlander locations with others places.
Jamie and Claire Tours ~ General Description
We think the Jamie and Claire Outlander Tour of Scotland is as close as you can get in a week on a Diana Gabaldon inspired tour to the lives of our heroes. We'll experience the paths and hills of the Scottish Highlands. We will witness parts of the battle and pay our respects to the fallen at Culloden Battlefield. We'll look for the elusive Stone of craigh na dun that brought Claire into Jamie Fraser's life. We'll admire the surrounding countryside of Lallybroch on foot, and stay in some traditional accommodations of the Highlands. We'll visit the romantic wee chapel like the one Claire and James Alexander Malcolm MacKenzie Fraser were joined in a traditional Scottish Handfasting marriage. There will be time for traditonal celtic music, Gàidhlig words and phrases and Storytelling of the 18th century with a genuine Highland Storyteller as one of your guides.
Some of our highlights may include an exclusive visit to a Private "Lallybroch" Estate very much like the book's description or search for Nessie on a Loch Ness Boat Trip or try your skills at Pony/Horse Trekking.
We are devoted Jamie and Claire fans and have created experiences that best reflect the atmosphere of their adventures and life in the 1700s.
We've chosen the locations and experiences closest to the first 3 books in the Outlander Series by Diana Gabaldon. However, these are places that will appeal to everyone interested in the magnificance of Scotland. Walking is essential to this tour, as we leave the vehicle at each destination and put on our walking shoes and enjoy the beauty around us. We have included some of the Starz filming locations for the Outlander series.


Site created 2006 by ansguelaiche.mackenzie. Last updated 2015.