~ The Romantic Borders ~
~ Swashbucklers, Castles & Coasts ~
This Connoisseur's Tour (what's this?)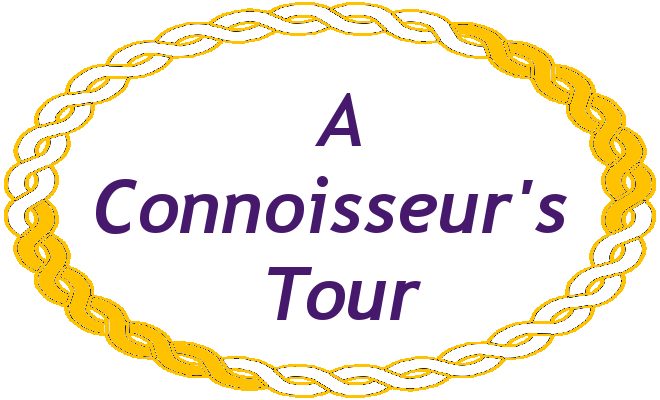 is themed around places of beauty and tranquillity, deeper exploration, walking and enjoyment of the rich history and literature of the fabulous but forgotten Borders.

~ Places We Visit - Experiences You'll Have ~
~ Three castles - from the smallest, Lindisfarne Castle on Holy Island, to the great fortress of Bamburgh Castle to the magical Alnwick Castle, home of Harry Potter.

~ Abbottsford, the dream mansion come true of Sir Walter Scott.

~ The Serenity of Dryburgh Abbey...
the resting place of Sir Walter Scott and Field Marshall Haig.

~ Jedburgh House - temporary residence of Mary Queen of Scots...
as she brought fleeting law and order to the Borders.

~ Berwick-upon-Tweed - a town so fiercely independent.
it's still at war with Russia after 200 years.

~ We'll get bookish at Barter Books,
the place that rediscovered the war poster "Keep Calm and Carry On".

~ We'll walk the beautiful Eildon Hills,
twisted from one hill into two by the witch Michael Scott.

~ We'll walk the cliff path at St Abb's Head amidst the bird colonies, for sea-bird aeronautics.

~ An evening of traditional music and storytelling of Border Tales.

~ Meeting Local Folk in tradtional pubs.

~ And of course, much more besides...



Borders - peaceful, romantic & a bit quirky
~~~ OPTIONAL EXTRA ~~~
Lads' Day ~ Gentlemen's Evening (no women allowed!)...
Treat your man to a dude day on the tour.
A day of men's pursuits* followed up with an evening of gentlemen's dining,
followed by drawing room or pub,
compliments of their Lasses.

* Some of the Lads' pursuits on offer include a selection from a few of the following:
Golf, Hill Walking (aka Hiking), Horse/Pony Trekking, Fishing, Boating, Archery, etc.
*The supplement for these additional activities will be covered by each Lad's significant other!

Lasses' Day
While the men are away, Les femmes will enjoy a day of their own group pursuits,
highlighted with a picnic or afternoon tea!

This tour has an optional extension. See below.
Still got itinerary questions? FAQ page has Answers!